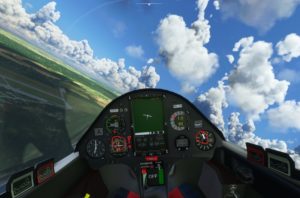 Amazingly it is possible to use thermals below clouds for soaring in MSFS2020!
This race doesn't use any Albatross/Kinetic Assistant programmed thermals (no csv file) – just pure MSFS2020 weather which means you can look for thermals under the clouds,
and do not need to use any additional software for flight.
I tested that there are thermals under clouds and no updraft in areas where there is only the blue sky.
Task has configured no wind, flight over flat terrain so there is no other then thermal updraft source.
Setting high temperature: 50°C seems to generate thermals.
I flew this task with flight start date set in MSFS2020 to 2021-06-15 10:59 UTC (I didn't test if it is mandatory – but it is not set automatically!).
Some important notes/hints:
I used AS-33 ME glider, with empty ballast – you can simply empty it with 3 switches on the right hand side of the cockpit.
I used Albatross winch start to launch to about 400m then turned around 45deg right (135 deg heading) to the nearest clouds, their dark cloud shadows on the ground provide hint where to fly.
After few minutes you will see lift on netto-vario and more importantly on the compass instrument wind direction (orange arrow – I marked it on the picture) and strength (orange number) will be shown.
As the weather presets have 0 wind and 0 gusts this indicates the updraft! When the wind speed will be at least 5 you should be able to climb during circling, use flaps T1 or T2, maintain speed around 90km/h.
If this orange arrow will be mostly turning around the compass it will be good indicator that indeed you are inside the thermal column (as airmass seem to arrive from the outside and turn up)
The higher you are the stronger the lift seems to be – the wind speed as indicated as orange number on the compass will also increase – I saw indication of 11-14.
If you need more info you can follow a GPX track I included in the package.
Happy thermal-gliding!

Direct Google Drive link to flight plan and weather settings.
Trivia: Finish point (EPKO) is the main place I fly in RL, starting point is my dad's ex-military airbase where he flew Mig-21s in the 80's 🙂