May I invite you on a gliding trip to Poland & Slovakia highest mountains (Tatry Wysokie / High Tatras), see all the highest peaks while ridge soaring through the whole main mountain range and then return back home safely.
This is a mixed thermal and ridge soaring flight.
Introdiction
You will start at famous polish gliding place – Żar mountain (70km from Hight Tatras), location of polish mountain gliding school (dating back to 1936) and home airfield of Sebastian Kawa (sixteen-time World Champion, number one in the world rankings of the FAI Gliding Commission and the current World Champion in 15m Class and European gliding champion in 18m Class).
Near Żar to the north west is Bielsko-Biała city where Allstar Glider manufacturer is located – successor of famous polish SZD (Szybowcowy Zakład Doświadczalny) – producer of many successful polish gliders (Jantar, Puchacz, Pirat, Bocian to name a few) – you can still buy SZD-51-1 JUNIOR glider here :).
At the top of Żar mountain there is a pumped-storage hydroelectricity power plant (flight's Turn Point 1) and beneath an artificial lake Międzybrodzkie with Żywiec city at the southern shore – famous beer producer :).
Flight info
Winch take off is from sloped runway. Start gate is straight ahead – you should start right after the rope release as max height is only 700m AMSL (2296 ft)!
Despite wind being set up to blow from the north, probably because the shape of valleys near take off you will experience winds from various other directions – east and south, there will be also wide changes in airspeed from (6 to 19 kph).
Because of that it may be difficult to find stable thermal, but give it a few tries – watch out for wind directon as not to end up on the leeward side of the slope.
If you fail to find a way to climb then analyze my flight track to locate the climb area (spoiler alert I also marked it on map in the gallery).
Wind gains strength with altitude so watch out not to arrive at the Tatra mountain range too low or you may not be able to climb.
Turnpoints are on the tops of highest mountains so you will have to fly high.
Tatra mountains are know for their quickly changing weather so watch out as clouds may greatly reduce your visibility.
START MAX 700m AMSL (2296 ft)
TP1-FINISH MAX 2850m AMSL (9350 ft)
FINISH min alt 600m (1968 ft)
Recommended MSFS free scenery add-ons:
EPZR Żar Airport Aerial Photos & General Improvements – really great improvements to airfield and it's surroundings
SLOVAKIA 20m DEM –  Tatra mountains topography improvements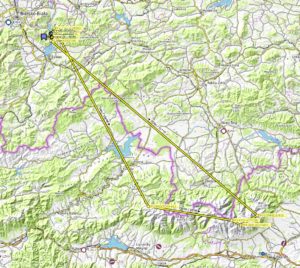 View on Żar mountain, lake Międzybrodzkie and EPZR airfield as seen from the west: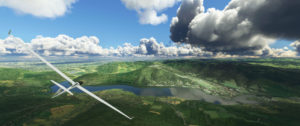 Rysy – highest polish peak (2499m) and lake Czarny staw pod rysami: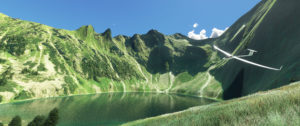 Gerlach (to the right) – highest slovak, High Tatras and Carpathian mountains peak (2655m), and Lomnica massif (2634m in the distance to the left):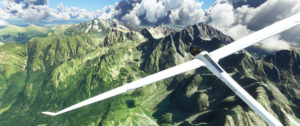 Near Lomnica (2634m):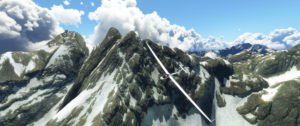 Some more photos from my only gliding trip to Żar in 2014 are in the gallery below.