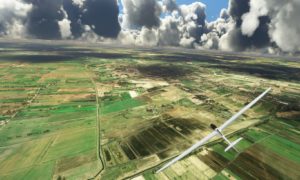 Second short race that uses only native (built-in) MSFS2020 thermals for gliding.

This time with proper start, finish gates and waypoints so you can actually complete it and have your track recorded as competition results in Albatross.

For this race I made weather just a tiny little bit more difficult - cloudbase is quite low, I  added some light wind (4kts) from SW and made weather less obvious - as in real life less developed clouds won't provide lift - for the best lift try the most towering clouds - they won't always be straight on the nav line.